Outward Opening Door Protector
We supply the trade and public with a vast array of products that can be used protecting and enhancing the entrance and exit points around the exterior or interior of a house, office or building.
Driguard Outward Opening Door Protector
The surge in crime is not simply a matter of burglary involving theft of valuable property, but a growing trend of mindless vandalism.
'Dri-Guard External' is a simple, inexpensive product, for widespread use to prevent all but the most determined of highly equipped intruders from breaking the mortise locks.
'Dri-Guard External' is a heavy duty steel, channel-shaped, mounting shoe, fitting over the leading edge of a door, with a shield plate fitted to the jamb, fixed by screws and powder coated finished in brown.
This guard can be manufactured to customer requirement. We at JML Hardware, are pleased to announce that we are sole suppliers and distributors of 'Dri-Guard' internal and external opening and external opening (bottom picture) mortise lock shields.
Some of the more popular ones are below, though if you can't see the meter repair box you are looking for, please call us and we will see if we can supply it.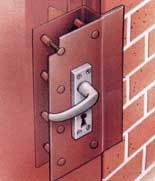 Mail
info@jmlhardware.com
Address
25 Smallshaw Close
Wigan
WN4 9LW