Meter Boxes
JML Hardware prides itself on the quality meter box products and services it provides. We supply the trade and public with one of the biggest ranges of Meter boxes and will deliver quicker than ever for both new and repair water meter boxes, gas meter boxes and electric meter boxes.
Some of the products in this category that we sell or supply are Universal Overboxes, Architrave Meter Overboxes, Hook on Meter Boxes, Externally fitted Overboxes, Floor Mounted Overboxes, Semi Submersible Lids, Cladded Overboxes and Water Meter Overboxes.
All our Meter Boxes are delivered in perfect order and at the best possible rates.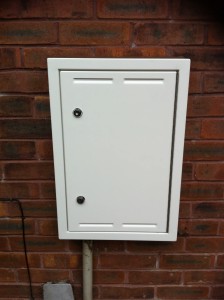 We have some of the cheapest prices in the marketplace, please view our online shop by clicking the categories to the right or by clicking the main Shop Area via the link at the top of the web site.
More information on all these products is on their own separate pages, you can access these via the links from the top of the web site or by following the quick links at the bottom of the site.
If you need any more information or would like to talk to one of our specialists, please use the contact us page for all the different ways of interacting with us.