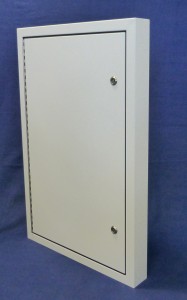 These galvanised fire resistant overboxes can be used to cover internal and external electricity meter boxes which require a 1 hour fire rating.
All these galvanised fire resistant overboxes are tested to and comply with the EN1363-1 & EN1366-3 60 minute fire test.
The overboxes can be fitted directly onto the surrounding brickwork to cover either new or damaged electricity meter boxes.
This box and other meter boxes and repair boxes can be found and ordered through our online shop here. www.jmlhardware.co.uk
If you have any questions, please contact us here.
FOR USE IN COMMUNAL AREAS IN BLOCKS OF FLATS
•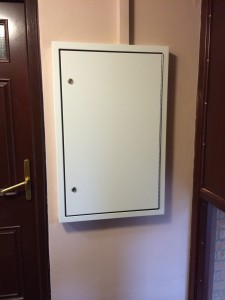 TESTED TO EN1363-1 & EN1366-3 60 MINUTE FIRE TEST (REPORT AVAILABLE ON REQUEST)
• 2MM GALVANISED STEEL CONSTRUCTION
• 316 STAINLESS STEEL LOCKS
• 304 STAINLESS STEEL PIANO HINGE
• PYROPLEX INTUMESCENT FIRE ONLY SEAL ON BACK OF BOX
• SAFEX RETROFLEX 1 HOUR FACE FITTING INTUMESCENT FIRE AND SMOKE SEAL AROUND THE DOOR FRAME
•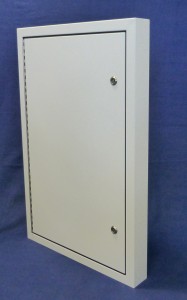 POWDER COATED IN ANY STANDARD RAL COLOUR
• CONCEALED FIXINGS
• AVAILABLE IN 3 SIZES AND CAN BE TAYLORMADE
OB30S TO COVER A BOX 625 X 425 X 80
OB30M TO COVER A BOX 700 X 500 X 60
OB30L TO COVER A BOX 795 X 568 X 50